Let's Start Planning
Financial planning is the process where we work with you to give advice surrounding all your financial resources to maximize the potential of you reaching your goals.
There are many segments to the complete financial plan that include both growing and protecting your assets.  This process will hinge on setting specific measurable goals. So it's important to ask:  What do you want your future to look like and what resources will be required?
Begin working on different segments to build out your roadmap.  You can have some fun with our "My Blocks" system to help you get started.
Explore a few of these segments by clicking the box below.
 Register if you are a first-time user and begin building your strategy!

Life Insurance
How much do I need to be well protected?
Find out with the "Protect Your Family" module
Retirement
Run through a "Social Security" analyzer to help you project how much income you should receive or dive into your "Personal Vision" for retirement tool
Inflation
See what things cost in the past versus now and notice the eroding effects of inflation over time with an interactive "What Did It Cost" quiz
Tell Me More About How We Can Help You With Other Areas Below!
Click on the links below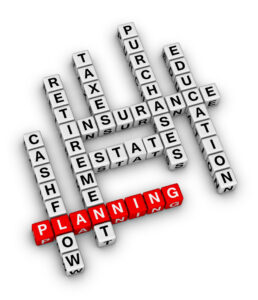 A common question we are often asked when sitting down with a prospect or client is "How much risk am I taking in my plan?"  This is a loaded question as:
There are numerous types of risks to consider
Each person's perception of risk is different
What we have found to be a prudent approach in trying to answer this question is to use technology.  We have partnered with Riskalyze to use the power of computers to gauge all sorts of different risks, from inflation, to concentration, and of course volatility.  Riskalyze is a state-of-the-art analytics tool that helps you see the risks in your investment portfolio by finding your risk number, which we then use to start a dialogue towards building a portfolio around an acceptable level of risk and return to help you meet your planning goals.  Click here to learn more about Riskalyze.
By answering a few questions in a quick questionnaire, you will see the given level of risk you are taking with your investments and what that could translate to indifferent "stress test" scenarios.  Whether you want to see how your portfolio may have stood up in the Great Recession, or see how exposed your investments were to the inflation spike of the 1970s, this tool can provide some very powerful information that will lead to very constructive discussions.
Start by finding your risk number!